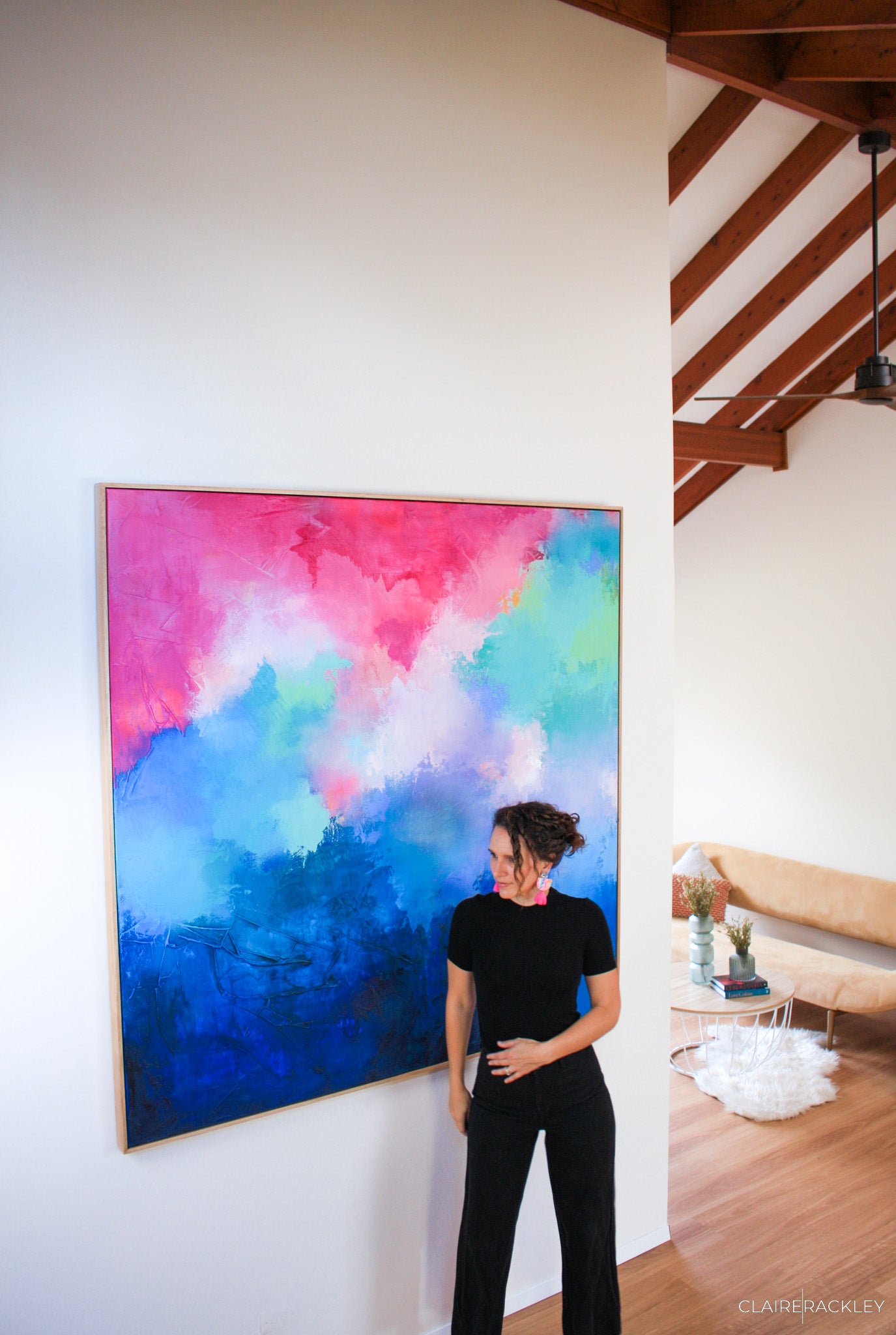 Artist Statement
Claire Rackley is an abstract artist who creates on Yugarabul country (Brisbane).
Her intuitive artworks are inspired by life's nostalgic moments and express emotion through layers of pigment.
Following a Bachelor of Design and a Diploma in Education, Claire enjoyed a successful career teaching Industrial Design. Design functionality and beauty are important to Claire in her professional art practice. Just like the ergonomics of a chair affects the body, so do the colours in a painting affect the mind. The artist gets to decide what kind of environmental and emotional impact that artwork might have.
In 2016 Claire had brain and spine surgery which started her art career. At first, she used the paint to distract her from her pain, but over the years it has transformed into something deeper. Claire has combined her art and design into HEALING|CEILINGS (ceiling art) to create a connection for hospital patients to the outside world.
'My art is a song of colour sung over the canvas to make people happy'.
Claire's hope is that her paintings bring a pleasurable stillness to life's chaos.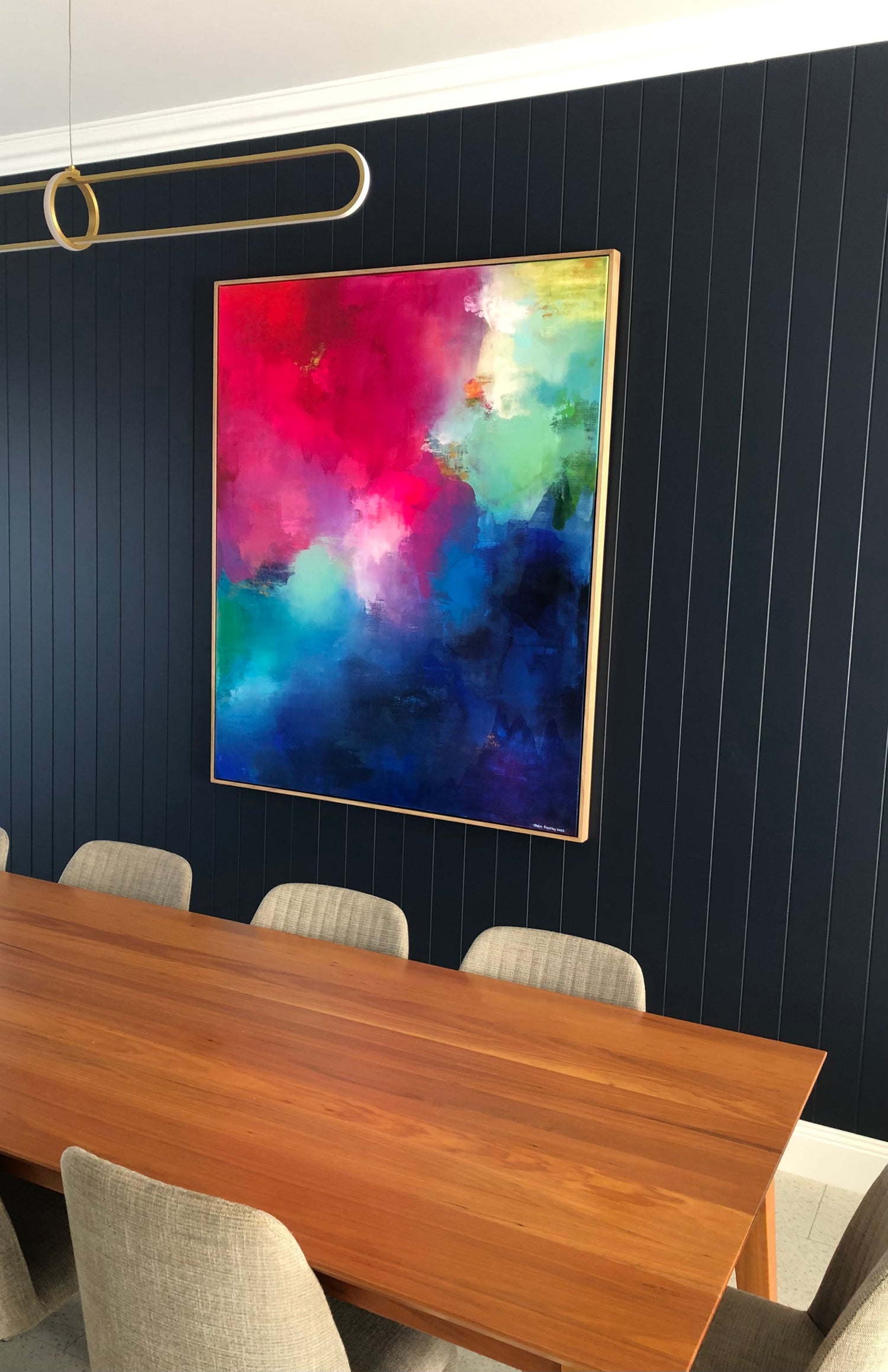 Artist Exhibitions
Upcoming Exhibitions:
'Grammar Art Show' 24 March 2023
'Brisbane Grammar Art' Show 5 May 2023
'The Tower Art Show' 19 May 2023
'The Ipswich Art Show' 26 May 2023
'The Teen Challenge Gala' 3 June 2023
'Festive Colours' 20 October 2023
Artist Biography
Claire Rackley began to paint after brain surgery in 2015. She founded Claire Rackley Art in 2016 and Healing Ceilings in 2021.
Claire's art and design work has been featured on multiple media platforms including: 7 News 2019, 9 Honey 2019, ABC Brisbane Radio, 2019 Monica Kade podcast, 2019 Southern FM radio 2019, The Power Kitchen podcast 2020, The Maker's Story Magazine 2022, The Digital Cloth 2022, Healing Ceilings Artist Interviews Podcast 2022.
As an artist she has artworks in retail, and as a designer Claire has successfully enabled the dream to positively impact patients in their time of need through ceiling art. Healing Ceilings has been acknowledged as an 'inspirational story' by the Queensland Health's Director General and currently has 12 artists across 4 states working with her to bring hope to Australian patients one fine art ceiling tile at a time.
Artist CV
Solo Exhibition:
'Festive Colours' Hip Hops Brendale, 2023
Group Exhibitions:
Brisbane Grammar Art Show, 2023
Toowoomba Grammar Art Show, 2021, 2022, 2023
The Tower Art Show 2021, 2022, 2023
The Ipswich Art Show 2023
The Creative Collective Brisbane 2018, 2019, 2021
Emerge Conference 2018
Ekka 2017
RBWH 150 year Art Awards 2017
Ceiling Art:
RBWH 2019
Mackay Base Hospital 2019
Fernlands Radius 2021
Aspire Social Enterprise 2022
The Wesley Hospital 2022
Kingaroy Hospital 2022
Brisbane Northside Emergency 2022
Prince Charles Hospital 2023
Ray White 2023
Selected Work Exhibitions:
The Morris Art Prize 2018
Moreton Bay Art Awards 2019
Rotary Art Spectacular 2019
Retail:
The Creative Collective Brisbane 2018-2023
Auctions:
Teen Challenge Gala 2023
New Hope Care 2018, 2019, 2022
Emerge Youth 2018
Retreats:
Wellness Art Retreat 2019 (Speaker, Teacher and Artist)
Senior Rural Managers Forum Darling Downs 2020
Prince of Peace team building retreat 2021
Commissions:
Work has been purchased for both private and commercial collections, nationally and internationally 2016-2023
'Every artist has a voice. My artistic voice isn't a descriptive story through an image or a political topic. My voice is a song of colour sung over the canvas to make people happy.'